Demolition recycling is one of the best ways to score LEED credits
Countrywide Recycling is the most capable provider of demolition recycling servers in Canada. With a 60,000 square foot facility, we are able to process up to 800 tonnes of material per day. And if you're recycling waste at your new construction project site, you're probably looking for LEED credits. We provide comprehensive LEED reporting for demolition companies. All you have to do is ask.
Demolition recycling made easy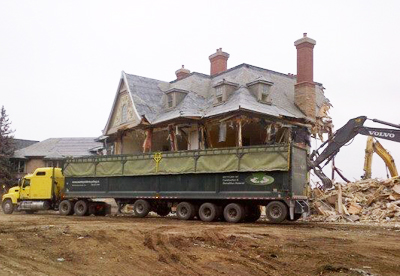 Though new construction and home renovation sites are common locations for building materials recycling bins, our disposal bins and walking floor trailers are also put to best use on demolition sites. Materials found on these sites are highly recyclable. Some of the most common demolition materials that end up in landfills instead of at a proper demolition recycling facility include wood, plastics, metal, drywall, asphalt, brick, ceramic, granite and porcelain.
A Size for Every Job
We offer three disposal bin dimensions – 14, 20, and 40-cubic yards, and walking floor trailers for really big jobs. We have the right solution to remove your demolition material waste. We deliver and pick up bins/dumpsters in Hamilton, Glanbrook, Caledonia, Hagersville, Dunnville, Oakville, Burlington, Milton, Grimsby, and Beamsville. Walking floor trailers are available for use throughout all of Ontario.
Make the responsible choice
We are proud to associate ourselves with conscientious demolition companies who provide safe collection, transportation and recovery of construction, demolition and renovation debris. Collaboratively, we promote a sustainable future by converting demolition waste into resources and divert waste from landfills.
Whatever role you play in the demolition industry, bring your waste to us for demolition recycling and earn your LEED credits while staying below budget. Don't forget, we buy your metal products as long as they're separated from the rest of your waste.
Call us today to learn more about demolition recycling, LEED, green building standards and how we can help make your demolition project the most efficient yet.