SAME DAY SERVICE FOR RESIDENTIAL DUMPSTER AND BIN RENTALS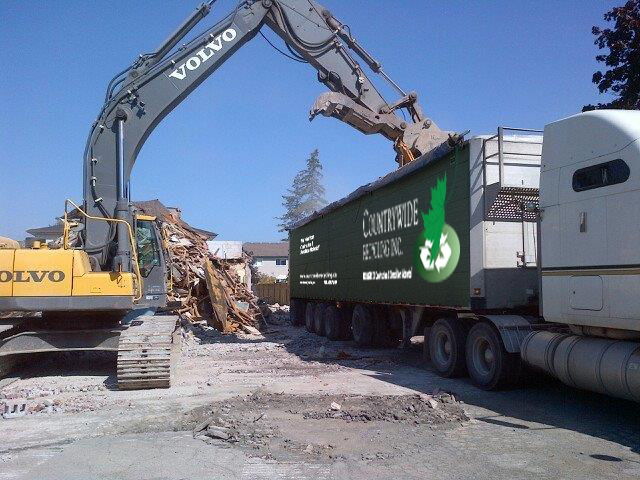 Bins and walking floor trailers for every job
Wondering what to do with your home renovation demolition waste? Planning a big household or estate clean-up and need to get rid of a large amount of trash? Rent a bin from us, fill it up and tell us when to come get it.  We offer same-day service on the delivery of a dumpster rental or rental bin straight to your home, business, or construction site in Hamilton, Glanbrook, Caledonia, Hagersville, Dunnville, Oakville, Burlington, Milton, Grimsby, and Beamsville. When you're ready we'll come and pick it up and take it back to our  recycling facility for processing. Countrywide Recycling handles as much as 800 tonnes of waste material every day.
Keep recyclable materials out of landfill
All too often, recyclable construction and demolition materials such as wood, plastic, metal, drywall, asphalt, brick, ceramic, granite, and porcelain end up in landfill. When you rent a bin or dumpster from Countrywide Recycling, you can be confident that your waste will be sorted and the bulk of it recycled.
Choose the right size bin or trailer
With three disposal bin dimensions to choose from — 10, 14, 20, and 40-cubic yards — we have the right renovation dumpster rental to move your waste without burning through your budget.
For bigger jobs, we provide walking floor trailers for use anywhere in Ontario.
BIN SIZE
LENGTH
WIDTH
HEIGHT
10 Cubic Yards
10′
x
8′
x
4'6″
14 Cubic Yards
14'6″
x
8′
x
4'6″
20 Cubic Yards
20'5
x
8′
x
5′
40 Cubic Yards
20'5
x
8′
x
8′
Choose 14 and 20 cubic yard bins for aggregate. 14, 20 and 40 cubic yard bins can be used for demolition, farm and household cleanup.
What You Need to Know Prior to Renting a Bin
While we sort all the waste that comes through our facility, what goes in and what stays out of your dumpster still matters. Keep this in mind when planning your waste disposal and budgeting at the start of your renovation or building project.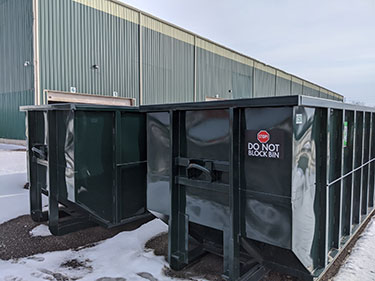 Homeowners or contractors should protect driveways, asphalt and concrete with wood prior to the arrival of the bin.
We charge by the metric tonne of waste that is in the bin and for the transportation.
Concrete should not be mixed with construction waste.
Concrete, brick, block and gravel can all be mixed together. We'll provide an aggregate bin for this kind of project – Please let us know beforehand.
A "C&D" bin can contain mixed materials of wood, drywall, plastics, cardboard, shingles, metals, renovations, household cleanups, demolition and construction waste.
Your bin rental includes 7 days of use, anything beyond that will be an additional charge of $5 a day. For projects you know will take longer please let us know and accommodations may be possible.
A permit to use the bin may be mandatory: If the bin is positioned on the property owned by the customer then there is no permit required. However, if the bin must be placed on the road or blocking a sidewalk, then it is the customer's responsibility to acquire a city permit. If you need a hand, we're familiar with the permit process and we're happy to help.
Bins should only be filled up to the fill line inside the bin. This is so we can return the bin to our facility safely. If the contents are above this line, we may not be able to complete our exchange/pick up as planned. Additional charges may apply.
Need a bin right now? Give us a call and we'll sort it out.