Get your metal recycling done here. We'll pay for it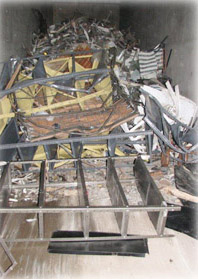 As Canada's most advanced material recovery facility, processing some 800 tonnes of non-hazardous waste daily, we make it our business to quickly get your metal offloaded and send you back to your job site, where you're really needed.
Dump and go, or sort and score
We are a "dump and go" recycler – on the way in we weigh you, on the way out we weigh you.. For the majority of our construction waste, it's that simple..
If you come to us to sell scrap metal, it must be pre-sorted. It's the only way we can be sure you're getting full value for your metal recycling. We recommend renting a dedicated bin from us for your job site to hold metal products only.
Why is metal different?
Metal products are almost infinitely recyclable. 98% of the steel out there is recycled. But it can't be mixed with anything else if you are seeking a rebate.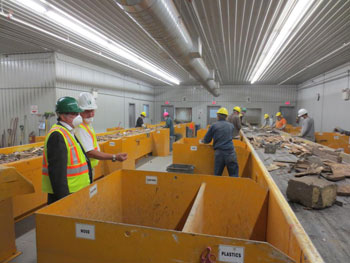 For all other demolition or building materials, we source-separate both manually and mechanically to achieve the highest level of material recovery as possible. We'll separate your wood, plastics, cardboard, drywall and aggregates.
Whether you are a bin company looking for a convenient place to dump your material, a do-it-yourselfer or homeowner renovating your home, a contractor or project manager working toward LEED credits or a transfer station that is concerned about our environment, we are your metal rebate source.
Our recycling facility is easy to get to. We're just off the QEW in Hamilton. We can dispatch a bin or walking floor trailer today, right now, to sites anywhere across Ontario. If your waste metal recycling provider is falling short on its service quality or can't handle the volume of recyclables your job site produces, give us a call to see what the most advanced recycling facility in Canada can do.