Construction waste removal where and when you need it
We are a "dump and go" recycler. Bring your waste bin to us, get weighed on entry, drive inside and dump the material on our floor, get weighed on your way out. You don't have to sort any of the waste materials on site. You have a construction site to manage, we'll manage your construction waste.
Convenient, fast and easy construction site waste removal
We don't handle hazardous waste. But we do handle everything else. Bring your construction bin or bins filled with anything below and we'll take care of disposal.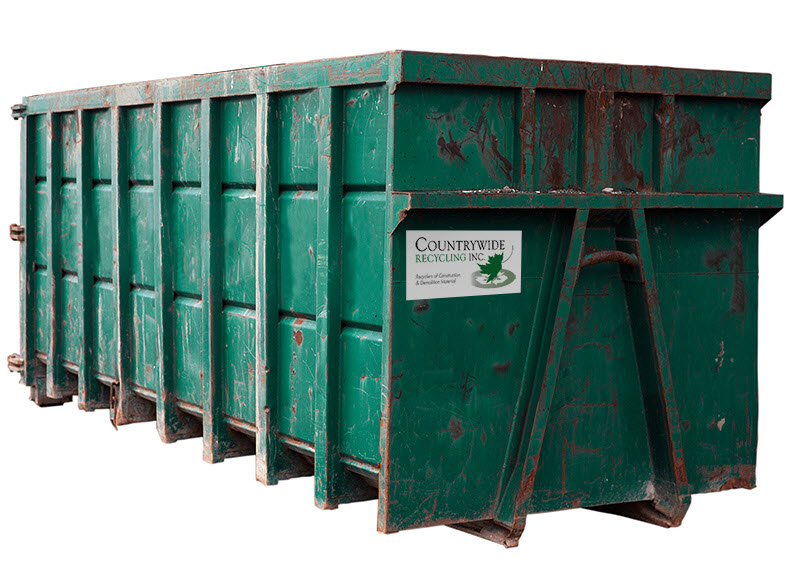 Wood
Cardboard
Shingles
Plastic
Metal
Drywall
Asphalt
Aggregates (including brick, ceramic, granite and porcelain)
Any other non-hazardous construction or demolition materials
With a 60,000 square foot facility, we can process up to 800 tonnes of material per day. Our job is to ensure waste is diverted from landfills. We take your waste and convert it to a sustainable fuel source or reduce your waste to raw materials so it can be used again in new forms.
A SIZE FOR EVERY JOB
With three disposal bin dimensions to choose from — 14, 20, and 40-cubic yards — we have the right sized dumpster rental to remove your construction site waste from sites located in Hamilton, Glanbrook, Caledonia, Hagersville, Dunnville, Oakville, Burlington, Milton, Grimsby, and Beamsville. For bigger jobs, we can provide walking floor trailers throughout all of Ontario.
So, how do we do what we do?
We source-separate all the material through a combination of mechanical and manual processes to achieve the highest level of material recovery as possible.
Whether you're a bin company looking for a convenient place to dump your material, a homeowner renovating your home, a contractor on a commercial job site or a transfer station that is concerned about our environment, we are the answer to all of your construction waste removal needs.
We are situated at 900 Nebo Road in Hamilton, Ontario. To book bin or trailer or to have any other construction waste removal questions answered, give us a call or stop by our facility with a load of waste!